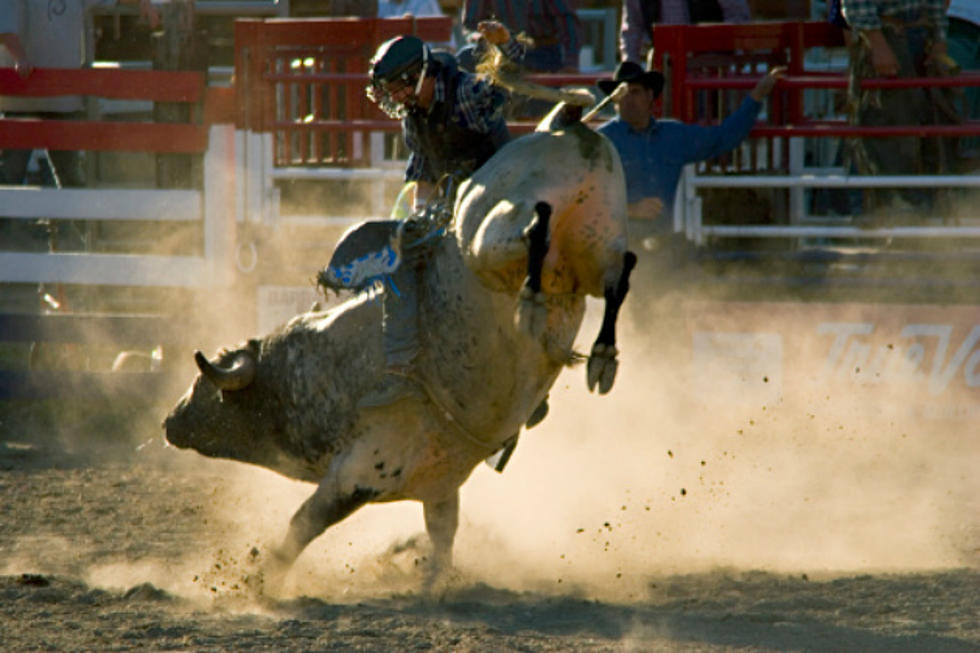 Spring Rodeo Season – Week 1 2019
Debora Dzenkiw/ThinkStock
Cowboys and cowgirls are scheduled to compete this weekend at Rock Springs.
Below are the winners of the Laramie Rodeo held on April 6-7.
Saturday's winners listed first, followed by Sunday's winners.
Information Courtesy: The Wyoming High School Rodeo Association.
Barebacks: Donny Proffit (Diamondville) and Derrick Petersen (Moorcroft)
Barrel Racing: Shelby Petersen (Douglas) won both days.
Breakaway Roping: Rayne Grant (Wheatland) and Sadie Sturman (Lusk)
Goat Tying: Haiden Thompson (Yoder) won both days.
Pole Bending: Halle Hladky (Gillette) won both days.
Saddle Bronc: Kayson Dory (Laramie) and Guston Lozier (Pinedale)
Steer Wrestling: Jake Deveraux (Newcastle) and Chance Sorenson (Arvada)
Team Roping Saturday: Teagan Bentley (Casper) and Broc Schwartzkopf (Douglas)
Team Roping Sunday: Bryton Scheller (Carpenter) and Carson Johnson (Casper)
Tie-Down Roping: Preston Schwartzkopf (Douglas) and Cody Caldwell (Gillette)
Bull Riding: Wyatt Phelps (Pinedale) and Zain Fitzgerald (Cody)
Competitors get points based on where they place on each DAY of a competition.
For example, you get 10 points if you finish first for the day, 9 points for a 2nd place finish, etc…
For each cowboy/cowgirl, the top 12 days/finishes from the regular season is their point total heading into the State Finals Rodeo.
If a cowboy/cowgirl has earned points on more than 12 occasions, the worst of their finishes are dropped from their point total.
That point total, combined with whatever points they earned at the State Finals Rodeo, will determine their final point total for the season.
The top 4 in each event at the end of the season, are invited to compete at the High School National Finals Rodeo, to be held July 14-20 at Rock Springs.
Below is the current top 4 in each event, through the end of the Laramie rodeo.
Information courtesy: The Wyoming High School Rodeo Association.
1. Donny Proffit (Diamondville) - 79 points
2. Derrick Robinson (Moorcroft) - 10
3-4 (tie). Dimaggio Hamilton (Sheridan) - 9
3-4 (tie). Drake Amundson (Wheatland) - 9
1. Kayson Dory (Laramie) - 39 points
2-3 (tie). Parker Manor (Gillette) - 18
2-3 (tie). Donny Proffit (Diamondville) - 18
4. Jase Longwell (Thermopolis) - 16
1. Preston Schwartzkopf (Douglas) - 50 points
2. William Albrecht (Sheridan) - 41
3. Clay Reiner (Buffalo) - 38
4. Cooper Deveraux (Newcastle) - 36
1. Ellie Bard (Sheridan) - 43 points
2-3-4 (tie). Jordyn McNamee (Buffalo) - 31
2-3-4 (tie). Rayne Grant (Wheatland) - 31
2-3-4 (tie). Ellie Anderson (Meeker, CO) - 31
1. Brooke Worman (Clearmont) - 71 points
2. Haiden Thompson (Yoder) - 65
3. Tavy Leno (Sheridan) - 63
4. Shaylee Terry (McKinnon) - 45
1. Shay Hough (Gillette) - 77 points
2. Haiden Thompson (Yoder) - 62.5
3. Shelby Petersen (Douglas) - 62
4. Taylor Nichols (Boulder) - 54
1. Shay Hough (Gillette) - 85 points
2. Halle Hladky (Gillette) - 54
3. Rayne Grant (Wheatland) - 45
4. Haiden Thompson (Yoder) - 40
1. Winsten McGraw (Gill, CO) - 52 points
2. Chase Stricklin (Rock River) - 43
3. Jake Deveraux (Newcastle) - 34
4. Kagen King (Rozet) - 31
1. Jade Espenscheid (Big Piney) and Coy Johnson (Buffalo) - 53 points
2. Blake Afdahl (Torrington) and Clay Reiner (Buffalo) - 46
3. Bryan and Jared Lemmon (Torrington) - 38
4. Bryton Scheller (Carpenter) and Carson Johnson (Casper) - 37
1. Wyatt Phelps (Pinedale) - 55 points
2. Brody Hasenack (Jackson) - 54
3. Zain Fitzgerald (Cody) - 52.5
4. Dalton McCaslin (Grover) - 47
1. Wes Bray (Casper) - 105 points
2. Hunter Hayden (Gillette) - 100
3. Joseph Hayden (Gillette) - 94.5
4. Kasen York (Saratoga) - 91
1. Ayanah Winsor (Kaycee) - 120.5 points
2. Emme Norsworthy (Thermopolis) - 90
3. Aniya Teppo (Farson) - 88.5
4. Taylor Gibson (Pavillion) - 73
1. Clay Kinnison (Grover, CO) - 38 points
2. Preston Schwartzkopf (Douglas) - 32
3. Kasen York (Saratoga) - 30.5
4. Maddie Fantaskey (Worland) - 27