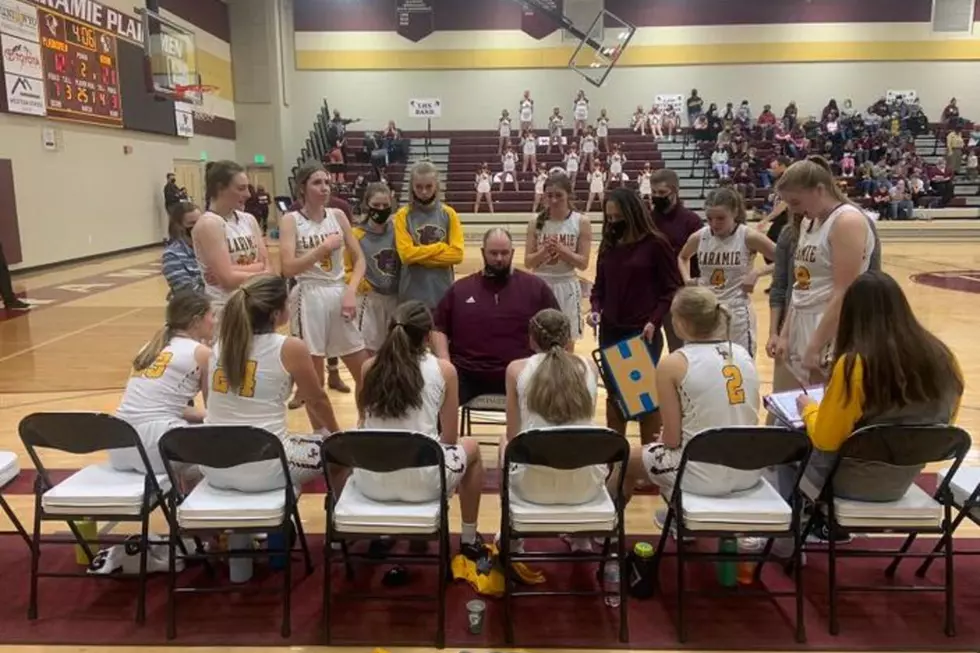 Nick Darling Resigns as Laramie High School Girls Basketball Coach
Courtesy: Laramie High School Girls' Basketball
Updated at 10:45 a.m. with comments from Laramie High School Athletic Director Ron Wagner.
==================================================================
After just one season Nick Darling is stepping down as the head coach of Laramie High School girls' basketball.
Darling led the Laramie girls to a 7-12 overall record that included a 1-5 mark in the 4A Southeast Quadrant. He and his family will be leaving Laramie later this year.
Darling was hired last May after spending four seasons with the boys' basketball program at LHS as an assistant coach.
The Lady Plainsmen started their 2020-21 season with a 3-1 record before the holiday break. A victory over Rock Springs on Jan. 9, 2021, equaled the previous season's win total. Laramie surpassed that with a win over Rawlins on Jan. 15, 2021. It was a tough last two months of the season, as LHS won just two games. The season ended with a 69-39 loss to Cheyenne East on March 4, 2021, in the 4A Southeast Regional Quad tournament.
Darling coached senior Kayla Vasquez, who was named first-team all-conference team in the 4A East Conference. She was second-team all-state. Senior Kylee Cox received second-team all-conference, while Janey Adair, Addie Forry, and D.J. Giron were honorable mention all-conference.
In a statement provided to the media on Wednesday, Laramie High School Athletics Director Ron Wagner said the following:
"I would like to announce the resignation of Nick Darling, LHS Head Girls Basketball Coach, effective upon ACSD #1 Board acceptance. Coach Darling and his family had a professional opportunity that they could not pass up as a family and it will take them out of the state. LHS will certainly miss Coach Darling and appreciate all he did for the girls' basketball program in the short time he was the head coach. We wish nothing but the best for Coach Darling and his family and appreciate all he has done for our community."
During the season Laramie averaged 47.9 points per game, which was good for seventh in Class 4A. As a team, the Lady Plainsmen shot 37.9 percent from the field, which ranked fifth in 4A. LHS averaged 28.3 rebounds per game (ninth in 4A) and allowed 53.6 points per game (14th in 4A).
Laramie High School girls' basketball has endured a tough stretch over the last eight seasons. Since Rod Tyson resigned after the 2013 season, the Lady Plainsmen have reached the state tournament only once, in 2017. LHS has had just one season where they finished with an overall record above .500 since 2013. That was also in 2017. The Lady Plainsmen finished 17-10 and lost in the third-place game at the state tournament that year.
KOWB has reached out to Coach Darling for comment. This story will be updated if we receive any comments.
The search for a new head coach will begin soon.
Best Rockies Lineup of All-Time