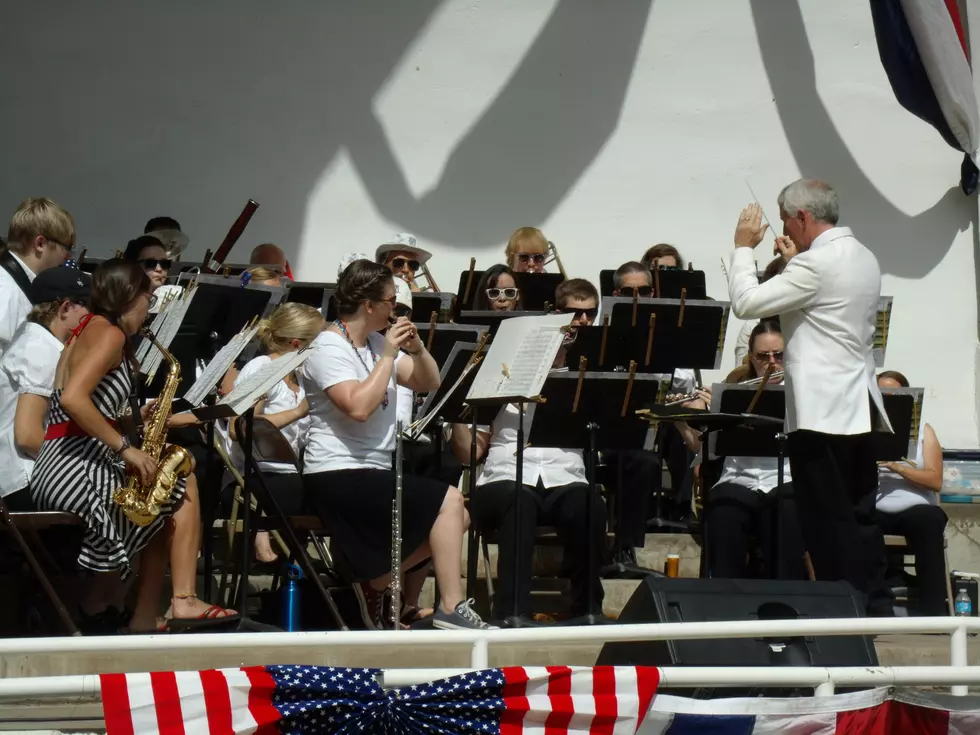 Laramie Municipal Band Offers Free Concerts in Washington Park
Tracie Perkins/Townsquare Media
LARAMIE -- If you are a fan of live music, the Laramie Municipal Band offers free concerts throughout the month of July. Bring a blanket or camp chair and enjoy the evening in beautiful Washington Park.
Bob Belser has been the director of the community band since 2007, as well as being the Director of Bands at the University of Wyoming for 25 years.
"About 12 years here. I took over from Edgar Lewis and shared it for a couple of years. Hopefully, I'll have the length of tenure that he did. I think he conducted the municipal band for 52 years. He was a wonderful, amazing person, too," Belser said.
He said the band is made up of 42 musicians.
"That's, frankly, about all that can fit on the stage! We try to keep it balanced, so we have equal amounts of sound we need to produce the music that we're going to be doing.
"It's a great stage when you think it was built in the late '30s, a WPA project, and the acoustics before all the computer way of determining how to build an acoustic shell is pretty amazing."
Belser said there are no special requirements for being a member.
"Just contact me. We always have about 2 or 3 new members each year, people that move into town, or people who have finally dusted off an instrument that's been sitting in the closet for 30 years. It's always great to have them be part of us.
"I tend to keep the veterans who've been with us for some time and then open it up for the spots that I need for the UW students that are going to be here during the summer. I think they enjoy playing – a lot less pressure than I put on them than during the school year for my wind symphony, to come and play in the band. We just rehearse one night a week on Mondays then do a concert on Wednesday. I put a lot of personal trust in every member of the band."
The summer concert series at Washington Park is presented by the Laramie Municipal Band and sponsored by the Laramie Parks and Recreations Department. It continues every Wednesday through July 31. The concerts are free and open to the public. Established in 1871, the Laramie Municipal Band has become a Laramie institution.
Belser said there are 3 remaining concerts, and each one starts with the Star-Spangled Banner. You can expect to hear a wide variety of music in their repertoire, music he refers to as "summer in the park" music that includes marches, "because the audience really likes marches," show tunes, folk music, and both golden oldies and current tunes.
"And," he said, "we can thank John Williams for creating memorable film music, which is another popular area the band is exploring."
Belser said it's great to see people who bring their dogs and show up an hour early to set up their chairs or blankets. He said the band is a wonderful addition to the community, just another example of why Laramie is such a special place to live.
"People stay long after the concert ends, too, just to visit with their friends and enjoy the ambiance of Washington Park," said Belser.
The next free concert is set for Wednesday, July 17, @ 7:30 pm at the Washington Park Bandshell, 18th & Sheridan Street in Laramie. The weather forecast looks awesome, so bring the family to a great evening of live music.
For more information, email Todd Feezer, Parks and Recreation Director at tfeezer@cityoflaramie.org, call 307-721.5260 or 307-721-5269.