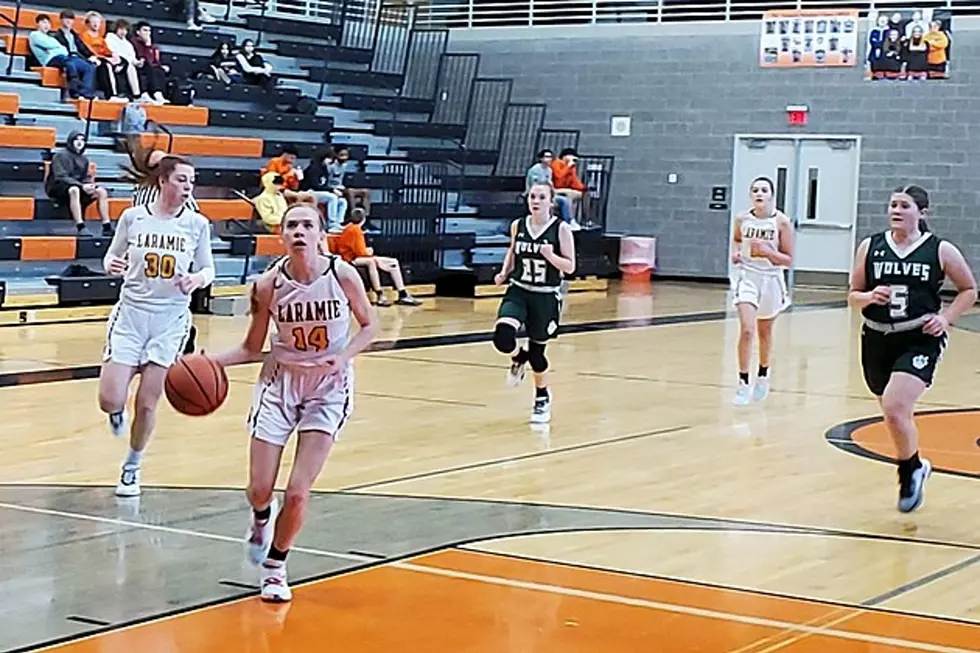 Laramie Girls Seek a Different Ending for 2023 Season [VIDEO]
Frank Gambino, Townsquare Media
The Laramie High School girls' basketball is looking forward to the 2022-23 season that starts this weekend in Riverton and Lander.
The way 2022 ended, Laramie would rather forget. LHS went 14-9 last season and took third in the East Conference with a 7-3 record. An 0-2 weekend at the regional tournament soured the season, as the Lady Plainsmen failed to reach the state tournament.
Second-year head coach Terrance Reese has a veteran roster. There are three starters and four more players with varsity experience. It's a young squad, as only two seniors are part of this season's roster.
Reese says his team is hungry entering the new season.
"We try not to talk about last year, but it's in the back of our minds about how things ended, and I know these girls want to write their own legacy. This is their journey this year."
He knows they have a sour taste in their mouth by the way they've been attacking practice.
"I'm excited. The girls have put in a lot of work this offseason, this preseason, we're ready to go."
Reese added they've mixed the teams in practice to make it more competitive.
The lone seniors are Ruby Dorrell and Lily Meyen. KOWB's David Settle chatted with the duo about the new season, how practice has gone, some keys, and some fun stuff.
Reese knows the first weekend will have its challenges with Star Valley, Powell, Riverton, and Jackson.
"I want to see some of our different lineups, how we can play together. I think this year we're a little more versatile where we can go big or we can go small. (I want to) see how our transition game is working. I think that will be important for us. Also, just being able to get after people defensively."
He is also stressing the team's mental toughness, which Reese felt was a downfall towards the end of last season.
Laramie opens against Star Valley at Riverton Middle School on Thursday at 6 p.m. They will play 3A Powell at 10 a.m. on Friday at the Lander High School Auxiliary Gym, and then play a second time on Friday at Riverton at 4 p.m. The Strannigan Classic wraps up with a game against Jackson on Saturday at 3 p.m. at Central Wyoming College.
KOWB Radio will broadcast all four games live on the radio, the KOWB app, online, and through smart speakers. David Settle will call the action. Coverage will start 30 minutes before the start of the game.
Holiday Events in Laramie
All of the holiday events happening in Laramie this Nov-Jan to keep you busy this winter!