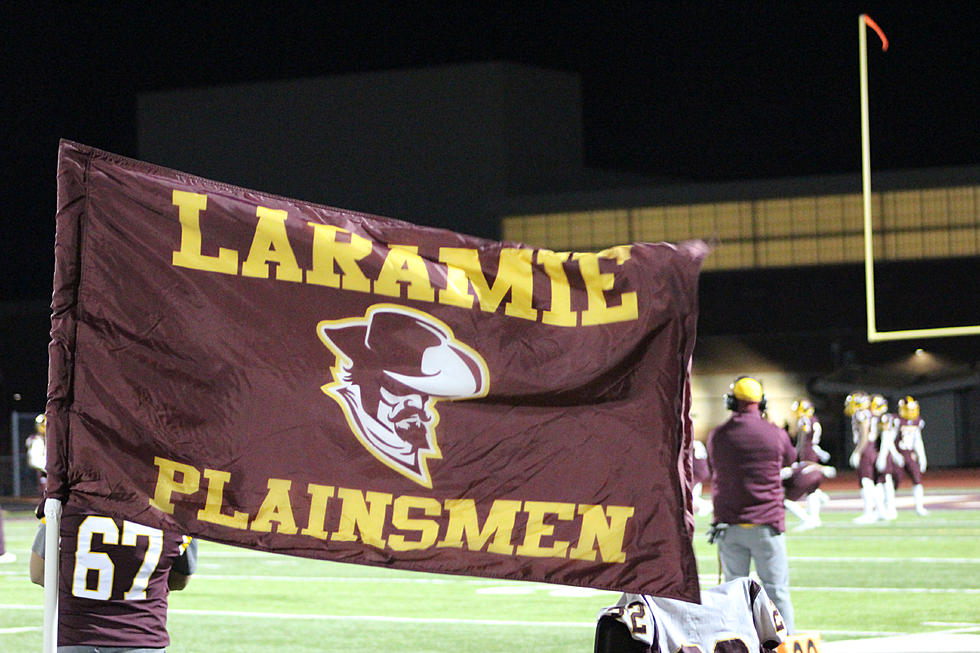 Laramie Faces Thunder Basin in Football's Senior Night
Courtesy: Melissa Alexander
The Laramie Plainsmen will play fourth-ranked Thunder Basin in their home finale of the 2021 high school football season on Friday night.
Thirteen seniors will be recognized in a ceremony starting around 5:15-to-5:20 p.m. tonight in front of the home stands on the west side of the stadium.
Laramie head coach Paul Ronga stressed how this is an important night for the school, the community, and the parents and guardians.
"(It's) for our seniors, who have been part of this program for many years, even going back to Pop Warner (Laramie Youth Football) and middle school. I was also pleased that we began the season with seven seniors, and we ended up with 12, so we had five new seniors come out, representing us. It's a special night for them. We're happy to have it for them, and we have a nice little program set up, so we're excited to do that."
This year's senior class includes Christopher Alvarez, Evan Clark, Paul Crater, Will Daniel, Jackson Devine, Cooper Gray, Fischer Hawkins, Grahm Jaques, Ethan Jenkins, Sam Lee, Talon Luckie, Quail Perkins, and Lucas Wall. The two senior managers are Mackenzy Sanchez and Taylor Thatcher.
Ronga added, "The first people I met were the captains, and these are just excellent guys. They're excellent students, and they just really represent Laramie football better than anybody."
Those three were Devine, Gray, and Jaques.
Ronga said, "Throughout the whole transition of me being in New York and coming here over the summer, these guys were my second coaches, and they did a great job in that, so my hats off to them."
Laramie (0-6) remains winless in the 2021 season. They take on fourth-ranked Thunder Basin (5-1), who has four straight wins coming into this game. They've scored 61 points in back-to-back games.
The Bolts have Class 4A's best passing attack at 219 yards per game. Conversely, the Plainsmen are eighth in pass defense, as they allow 149 pass yards per game and nearly 18 yards per completion.
Ronga likes Thunder Basin's approach and admits he loves to throw the ball. He says they (Thunder Basin) are the best in the league.
"They've got top-flight receivers, top-flight quarterbacks. They've got great formations. They've got speed, and another thing they have is they've got size. They're very tall, and so they definitely present a formidable challenge for us because one of our Achilles heels this season is the pass. A lot of teams have been going to the pass against us, ironically in the red zone, so that's something we're hoping to address and look at, especially this week, but definitely their (Thunder Basin's) passing game's an issue."
The Bolts also feature the No. 1 pass defense in Class 4A that allows only 119 yards per game.
Laramie has moved up to sixth in pass offense at 136 yards per game. That's after last week's 266-yard performance versus top-ranked Rock Springs. Sophomore QB Ben Malone is sixth in passing at 116.5 yards per game and eighth in all-purpose yards at 135 per game.
Thunder Basin has the No. 3 rusher in Isaiah Halliburton at 87.3 yards per game, and the top QB in Ryan Baker at 216.3 yards per game. The Bolts average 38.8 points and allow 19.3 points per game.
This will be the fifth meeting between the two schools in football. Laramie is 0-4 versus Thunder Basin.
The game starts at 6 p.m. at Deti Stadium.
KOWB radio will provide live coverage of tonight's game. Join David Settle and Aaron Lozano for the call of the game. The broadcast begins at 5 p.m. You can listen on the radio (AM 1290), anywhere through the KOWB app, online, or even through smart speakers.
Haunted 307: The Most Haunted Places in Wyoming