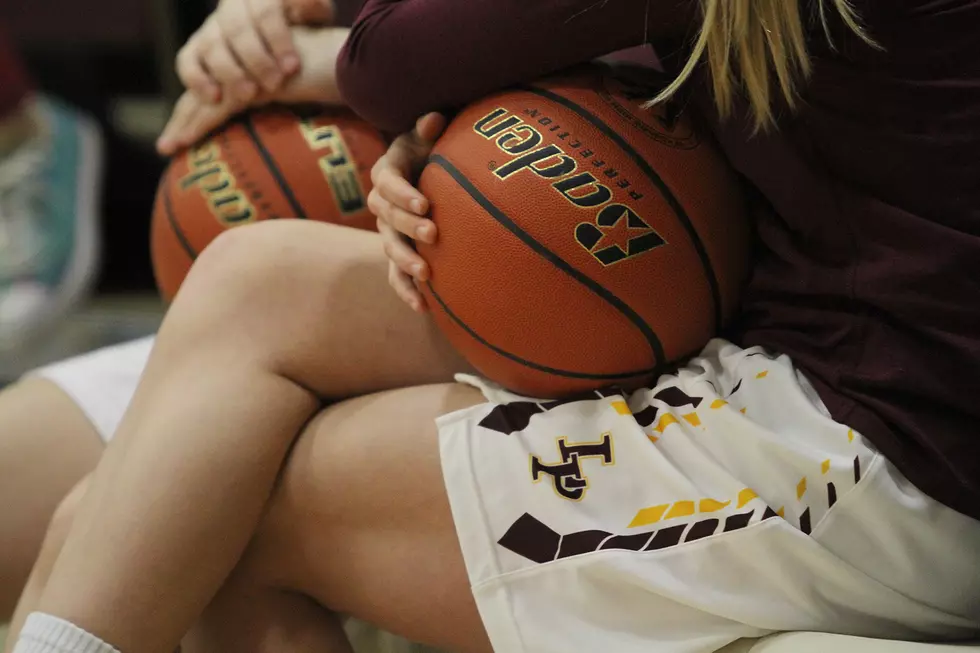 Laramie Basketball Hosts the Bison and Tigers
Seneca Riggins, Townsquare Media
The Laramie High School basketball teams will try to take advantage of their home court over the next two weekends.
LHS begins a four-game home-stand over the next two weekends with Cheyenne South and Rock Springs visiting Friday night and Saturday afternoon.
The conference doubleheader against the Bison features the girls' varsity game at 6 p.m. followed by the boys' varsity action at 7:30 p.m. Saturday's rescheduled non-conference doubleheader versus the Tigers has the girls' game at 1 p.m. and the boys' at 2:30 p.m.
Laramie Lady Plainsmen
Laramie (3-9, 0-2) is in search of its first conference win of the season and so is their opponent Cheyenne South (3-9, 0-2).
Friday night will be the final of an automatic 2-game suspension for head coach Rod Tyson after his ejection for two technical fouls in the loss to No. 1 Cheyenne East on Jan. 22. Assistant Doug Roehrkasse will serve as the head coach again.
Coming off losses to East and Cheyenne Central last week, Roehrkasse said the big focus has been on defense.
"The biggest thing we've been working on the last couple of days has been our defensive rotation because that's one thing we didn't do well in the games, both East and Central."
Roehrkasse added they're more focused on Friday than Saturday because it's a conference game.
"I think we can pressure their guards. That's one thing we've noticed when looking at film. Another thing we'll try to do is run our offense a little more and wait for a good shot. I think the East and Central games, both, we rushed shots, kind of force a lot of things. If we can make the defense work, I think we'll get more shots and better shots."
Saturday will be the second meeting between LHS and Rock Springs. The Lady Plainsmen won their first game in Riverton on Dec. 14, 31-24.
Laramie Plainsmen
Laramie (7-5, 0-2) will try to stop a five-game losing skid as they face Cheyenne South (6-6, 0-2) on Friday night.
The Plainsmen haven't won since Jan. 9 in a 52-49 victory over Green River.
After losing players to injuries and a player leaving the team, head coach Jim Shaffer has finally had a chance to get his squad on the practice floor. The problem this week has been illness.
"The guys that have been here have worked on a lot, and we've gotten a lot better. It's just we've had so many kids sick and not at practice, that it's been a tough week."
Shaffer is emphasizing Friday a lot more than Saturday. He knows the Bison are led by Cameron Bird, a senior guard that has started since he was a sophomore. Shaffer said it will take a team defensive approach to slow him down.
"We haven't spent any time on Rock Springs and even South, we haven't spent a whole lot of time talking about them. It's been a focus on us getting better and us figuring out some things we have to do to try to be successful."
Shaffer added it's about transferring our improvement from the practice floor to game day.
The Plainsmen lost to Rock Springs on Jan. 10 in Cheyenne during the Taco John's Invitational, 50-45. It was their first loss of the season.
Broadcast Coverage
Things will be a little different this weekend for KOWB's coverage of LHS basketball. Friday night's games will be on KOWB (AM 1290) and available online or through the KOWB app.
Due to a conflict with the Wyoming Cowgirls on Saturday, the Rock Springs doubleheader will be a streaming-only broadcast and available only at this site: www.network1sports.com/station/kowbnet.
David Settle will still call all the action.
Enter your number to get our free mobile app