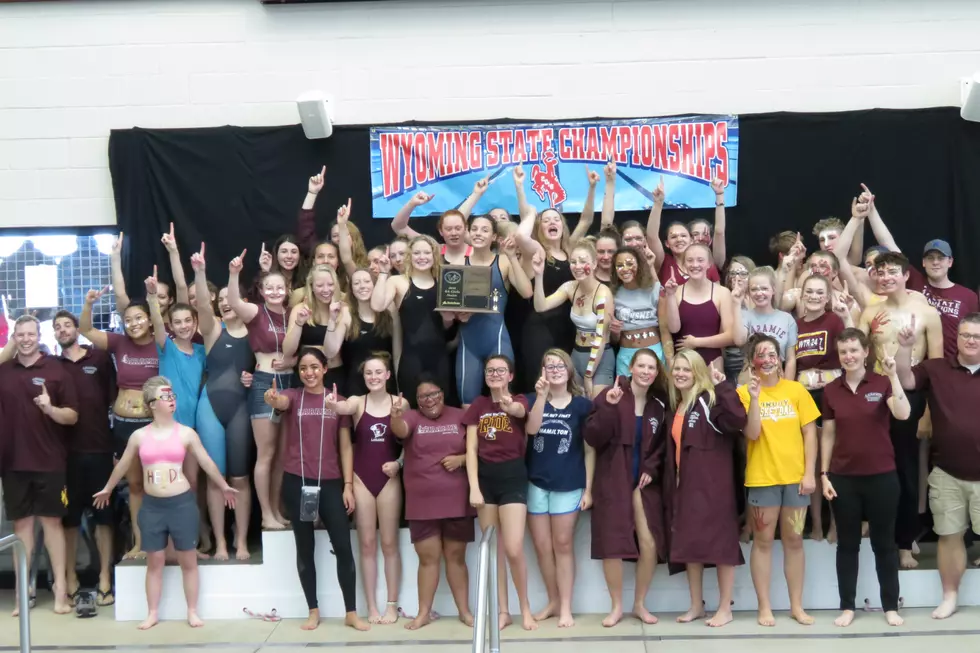 Lady Plainsmen Run Away With 4A Swim Title [VIDEOS]
David Settle, Townsquare Media
Behind four event wins the Laramie Lady Plainsmen won their second consecutive Class 4A State Swimming and Diving Championship Friday in Laramie.
The Lady Plainsmen dominated the meet and won by 129 points over runner-up Green River. Laramie finished with a team score 318 points. They won back-to-back state titles for the first time since 2000 and 2001.
Laramie head coach Tom Hudson was named the 4A Coach of the Year. He said winning a championship never gets old.
"This is just an incredible feeling, total domination from a team. I really tried hard to keep these girls hungry all year. I knew we were gonna be something special, and they truly were all season long. And, to win by over 100 points, I've never seen the likes of that in my tenure, boys' or girls,' just a completely dominating team."
Hudson said it was a great combination that led to their performance.
"Of top end power, which a lot of years we don't have, and we had tremendous depth and strong diving. We had all of it covered. We had a finalist in every single top-six final, and in almost every single bottom-six final. It's just really hard to beat a team that deep, and that strong at the top. Then to be led by automatic All-American Olivia McPherson in two events and a state record. Just great top-to-bottom."
Junior Olivia McPherson was part of all four event victories. She earned All-American honors in the 50 and 100 freestyle races. The first victory and accolade came with a third straight title in the 50-freestyle and a time of 22.94 seconds. McPherson followed that with her first state crown in the 100-freestyle in 50.15 seconds, which set a new state record. She also anchored the victories 200-freestyle and 400-freestyle relays.
The junior admitted it hadn't really sunk in yet.
"I think it will take a while, but I'm really proud of my team and working really hard, and I don't know, I'm just pretty happy right now."
McPherson pointed to the 200 medley relay dropping nine seconds in the preliminary round Thursday as the starting point for the team's great performance.
"I think it uplifted everyone, and they're like, okay, we can do this. Yeah, it helped a lot."
McPherson swept the big individual honors, as she was chosen the 'Outstanding Swimmer of the Meet' and 'Outstanding Swimmer of the Year' for Class 4A.
Hudson said, "Olivia is just fiercely competitive, and she hates losing, and she has goals. She's a serious year-round swimmer. She's gonna be a serious college swimmer. Olivia rises to the occasion of any race. She now owns the state record in four events, two relay events, and the 100-free and 100-breaststroke. She's just an incredible athlete and person."
In the 200-freestyle relay, LHS received All-American consideration with their victories time of 1:37.04. That relay was comprised of Carter Burchi, Katie McPherson, Catie Weathermon, and Olivia McPherson.
The 400-freestyle relay, with team members Carter Burchi, Tayiah Graves, Sage Morton, and Olivia McPherson topped the meet off with a victory and time of 3:35.31. That was nearly eight seconds faster than second-place Campbell County's relay squad.
Laramie concluded the season undefeated in both of those relays.
McPherson said, "Mostly it was just pumping each other up, like, getting each other ready, come on, you can do this, let's go."
Hudson added the list of who stepped up was really too long to mention, but he did highlight senior co-captain Kelcey Anderson's performance in the 100-backstroke went from seeded second-to-last to a top-six finish.
"Right around the 200-free relay it started to sink in, and I was a little bummed that we didn't break our state record from last year, because I thought we had the potential to do it, so I was little bummed there, but then it sunk in, we're winning this meet by 85 points right now. This is incredible. This is a feeling I've never had, and I just couldn't be prouder of this team."
Green River finished a distant second place with 189 points, while Campbell County was third with 182 team points. The Camels also won four events at this state meet.
Laramie loses 12 seniors but will return 16 state qualifiers from this latest title team and will probably take on the favorite role for a 3-peat in 2019.