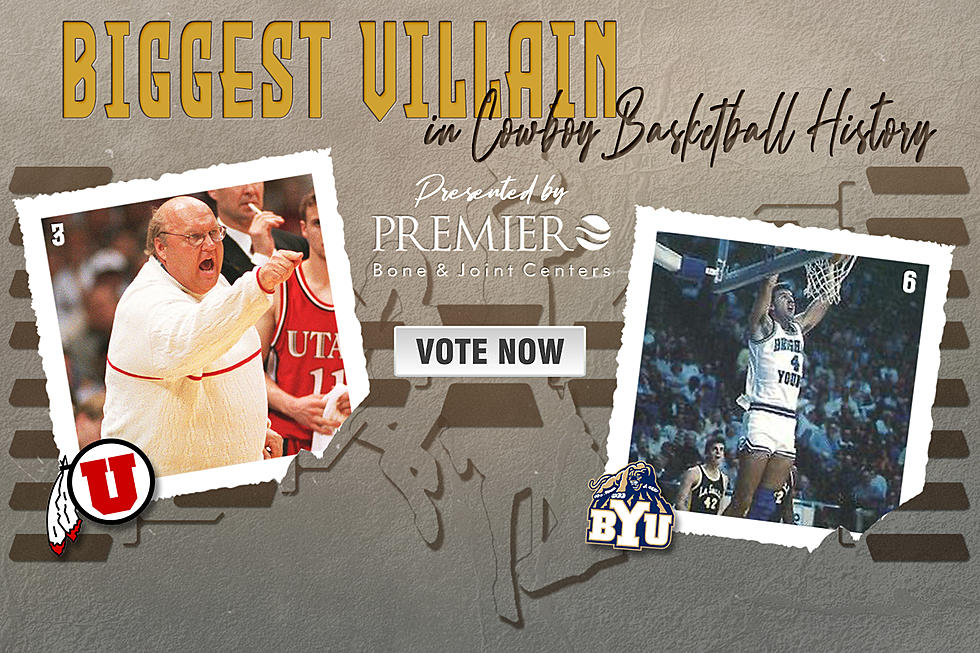 Wyoming's Un-Sweet 16: No. 3 Rick Majerus vs. No. 6 Michael Smith
We're having a 'Holy War' today between the bench boss of the Utes, a BYU nemesis./ Jen Kost graphic
LARAMIE -- There's a few things that can land you on a list like this one.
Beating Wyoming with regularity certainly makes you a thorn in the side. Making stupid decisions will also draw the ire of fans. Being an all-round jerk will do it, too.
This is our version of the Un-Sweet 16, pitting the biggest villains in Wyoming Cowboys basketball history against one another and eventually crowning the worst of the worst. This won't be our opinion, it's yours. You can vote for who will advance to the next round by clicking on the box at the bottom of this page.
We did our best to round up the ultimate enemy of the Cowboy State. We reached out to people in the know, from different decades of UW hoops. Don't be surprised to see plenty of rivals on this list.
Here's today's matchup:
No. 3 Rick Majerus vs. No. 6 Michael Smith
Long before the NCAA Transfer Portal became a thing, Rick Majerus was hacking and whacking scholarships left and right.
It was his way or the highway on the court and in the classroom.
Utah's head coach was notorious for his profanity-laced tirades on the practice court. Rumors have it he even dropped his pants once. It was a not-so-subtle way of telling a player to kiss his you know what.
A great majority of Wyoming fans considered Majerus public enemy No. 1 on the basketball court. A Sports Illustrated poll conducted amongst the Pokes' faithful in 2003 said so.
The "Fat man in a little sweater," as the student section would chant, would pound the scorer's table in frustration and was known to toss a haymaker at a Gatorade cooler or two. UW athletics director Paul Roach even demanded a public apology for his temper tantrum, one that also included a heated exchange with the Cowboys head coach, Benny Dees, during a 1992 game in Laramie.
"I think at the very least he should have apologized to the officials at the scorers' table and our fans," Roach told the Deseret News, adding that a one-game suspension also would be appropriate.
Majerus quickly fired back.
"It goes to show you he's played too many football games without a helmet," he said of Roach. "... I didn't know that the (Western Athletic) Conference was operating out of Laramie, Wyo., and that Paul Roach is now the commissioner."
Majerus, who coached the Utes from 1989-2004, capped his time in Salt Lake City with an overall record of 323-95 and a conference mark of 152-43. How many of those losses came courtesy of the Cowboys? Eleven.
None of those 26 meetings were bigger than the March 2, 2002 tilt in Laramie.
With the game on the line, Wyoming's Marcus Bailey toed the stripe and drilled two clutch free throws to give the home team a 57-56 lead with just seconds remaining. Utah got off one desperation heave at the buzzer before the more than 16,000, an arena record, rushed the court.
The Pokes were Mountain West champions.
"Beating Rick Majerus and Utah at home for the conference championship was one of the best things I was ever able to experience playing basketball," former UW star forward Josh Davis said. "... The man is definitely a villain."
Reggie Slater, who played for the Cowboys from 1988-92, agrees with Davis.
"Rick Majerus could fit the bill of a villain, puppet master," he said, adding that he recalls the "many bruises" from those games against the Utes. "He had a brilliant basketball mind that translated to his players playing beyond their capabilities."
There's no questioning the results under Majerus. The future College Basketball Hall of Famer led Utah to the national title game in 1998. The Utes fell to Kentucky 78-69. Majerus won six WAC titles and added three more in the Mountain West. Five times he was named the league's Coach of the Year. He won more than 500 games in stops at Marquette, Ball State, Utah and eventually Saint Louis.
The man could coach. That's what made him even more insufferable in the high country.
MORE UW ATHLETICS NEWS VIA 7220SPORTS:
* Wyoming wideout patiently carving out his role
* Indianapolis waives former UW running back Titus Swen
* Linder on NIL: 'It's the elephant in the room'
* Throwback Thursday: The two that got away
Sometimes a guy can be considered a villain simply because he's just that good.
That guy was Michael Smith.
Only Danny Ainge finished with more points in BYU basketball history. Smith, a Hacienda Heights, Calif., product, netted 2,319 of those during his four-year career in Provo. Standing 6-foot-10, this guy was ahead of his time when it came to big men hitting shots. Check out these numbers: .507 from the field, .430 from three-point range and .878 from the free-throw line. No other Cougar in program history has been that successful from the charity stripe.
His 922 rebounds is also the standard at BYU.
Here's some other maddening numbers: 6-2.
That was BYU's record against the Cowboys during Smith's tenure. Technically he was 6-1. He missed the 1984 loss with tonsillitis.
In 1988, Smith was named the WAC Player of the Year after averaging 26.4 points per game. He was also a consensus Associated Press All-American.
Remember former BYU quarterback Jim McMahon? Smith was the polar opposite. The perfect Latter-Day Saint, fresh off a two-year mission in Argentina from 1984-86. Here is an excerpt from a Sports Illustrated story about Smith titled "All-everything Michael Smith is talented, studious, reverent and, by BYU's staid standards, a wild and semicrazy guy."
"If you have never been to a Mormon bachelor party, it goes something like this: First, you get about a dozen very nice guys together at about seven o'clock and you watch a little TV, preferably sports, occasionally spicing up the conversation with stories about particularly memorable chapel meetings. Then, around the seventh inning, with the game still on the line, you rise as one and head out to a pizza parlor. There, in a bacchanal of pepperoni and caffeine-free Coke, you indulge yourselves with a $4.95 all-you-can-eat feast in honor of the bridegroom-to-be. At the end of this segment of the debauchery, someone stands up and tells racy stories about the groom's boyhood; tonight most of the tales have been gathered from Smith's mom. ''And then there was the time Mike was driving through Barstow,' the storyteller says, 'and he was stopped for doing 80 in a 50 zone.' Ouch! Stop it! You're a maniac!
'"And then there was the time Mike's dad caught him having his mustache bleached at a girl's house.' Stop it! No, really! Please stop! Well, it goes on in this ribald fashion until 10 o'clock, when the entire group once again rises in unison to go home to bed."
While partying has never been popular in Provo, Smith was a "rebel" at that institution. He wore a sweatband on his ankle, left his shirt tail untucked and wore his drawstring outside of his basketball shorts. It was even a different color.
Hopefully sarcasm is your strong suit.
His hairstyles also made him a lightning rod: Perms, rat tails, bleach jobs.
Admit it, you go after the guy on the court with the goofy 'do.
"In fact it seems that Smith's theatrics have made him the BYU player most despised by WAC road crowds since Danny Ainge's memorable days of whine and poses. While Smith is regarded as something of an eccentric by the Latter-day Saints at Brigham Young, the most conservative campus in one of the country's most conservative states,
he is widely reviled as a holier-than-thou hot dog whenever the Cougars leave Provo," The SI article continues.
''The fans get all over me,'' Smith said, ''but I thrive on that. We get teased a lot by opposing teams because we're different. I think it's because we preach a religion that makes people on the outside see us as thinking we're better than everybody else. We believe that ours is the only true religion. Other religions have elements of truth in them, but ours is the only church that has the whole truth.''
WYOMING'S UN-SWEET 16 SERIES:
Monday: No. 1 Reid Family vs. No. 16 Paco Larsen (Reid Family moves on with 95.5% of the vote)
Tuesday: No. 2 Danny Ainge vs. No. 15 Antonio Davis (Ainge moves on with 93.4% of the vote)
Wednesday: No. 3 Rick Majerus vs. No. 14 David Turcotte (Majerus moves on with 92% of the vote)
Thursday: No. 4 Frank Arnold vs. No. 13 Lee Cummard (Arnold moves on with 74.8% of the vote)
Friday: No. 5 Larry Eustachy vs. No. 12 Joe Scott (Eustachy moves on with 58.1% of the vote)
Monday: No. 6 Michael Smith vs. No. 11 Norm Ellenberger (Smith moves on with 61.4% of the vote)
Tuesday: No. 7 Rafael Araujo vs. No. 10 Petie Gibson (Araujo moves on with 94.8% of the vote)
Wednesday: No. 8 Key Injuries vs. No. 9 MW Officials (Key Injuries moves on with 72% of the vote)
Thursday: No. 1 Reid Family vs. No. 8 Key Injuries (Reid Family moves on with 57.4% of the vote)
Friday: No. 2 Danny Ainge vs. No. 7 Rafael Araujo (Ainge moves on with 80.1% of the vote)
University of Wyoming's Top 50 Football Players
The rules are simple: What was the player's impact while in Laramie? That means NFL stats, draft status or any other accolade earned outside of UW is irrelevant when it comes to this list.
This isn't a one-man job. This task called for a panel of experts. Joining 7220's Cody Tucker are Robert Gagliardi, Jared Newland, Ryan Thorburn, and Kevin McKinney.
We all compiled our own list of 50 and let computer averages do the work. Think BCS -- only we hope this catalog is fairer.
Don't agree with a selection? Feel free to sound off on our Twitter:
@7220sports
- #Top50UWFB
- University of Wyoming's Top 50 Football Players