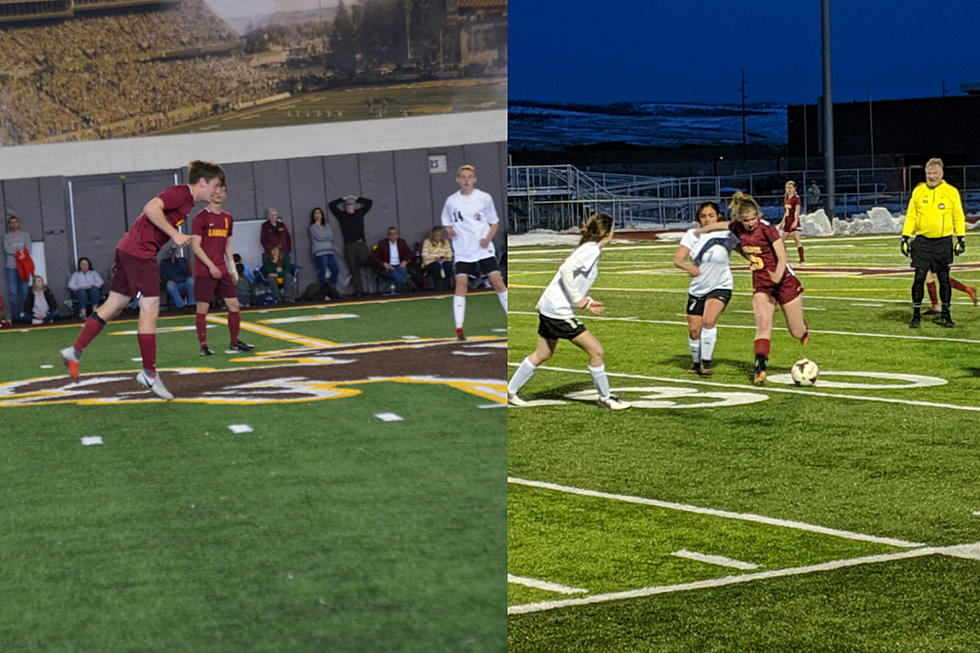 It's A One Game Soccer Season For Laramie
Courtesy: Daniele Webb/David Settle, Townsquare Media
The 2019 high school season comes down to one game Thursday for both Laramie High School teams at the 4A East Regional Soccer Championships.
The Laramie girls will play Sheridan at 4 p.m. at Deti Stadium.
The Laramie boys will play Gillette at 2 p.m. at the Auxiliary Field at LHS.
Due to weather, both matches could be moved indoors to the University of Wyoming's Indoor Practice Facility (IPF). If that happens the boys will play at 5 p.m. and the girls will play at 7 p.m.
Both teams split during the regular season with their first-round regional tournament opponent.
Both LHS head coaches, Raquel Clark, and Anne Moore, like their matchups and the fact they get to play in their hometown.
As for the one-game season, Clark feels they're prepared for it.
"There's a couple of freshmen who were on that championship team in 2016, they know what it's about. We've got some basketball players that know what that's about. We've prepped for this all year long, knowing how important that first game is no matter what the record would be from the season."
Three players that went through this scenario last year are senior Samantha Turpen, junior Kaitlyn Hoberg, and sophomore DaiJane Giron. They spoke with KOWB's David Settle about the one-game scenario, the match-up, and their keys.
For Plainsmen coach Moore, she said they've been talking about this since the beginning of the season.
"That this is all practice, and when it matters at the end of the season, that's when we want to be playing at our best. Leading up to this point, it's just seeding for regionals and who you play. Thunder Basin's got the bye, and everyone else, you just gotta show up, be prepared, and playing your best when it comes time for Thursday."
Senior captain Jordan Tangeman and junior Kyle Moore talked with Settle about the regional tournament, having it come down to one-game, seeing the Camels again, and more.
Both Laramie teams faced this same situation a year ago, and both were able to find a victory to qualify for the state tournament. If LHS wins, they continue action Friday and Saturday for seeding purposes at the state championships. If they lose, the season is over.