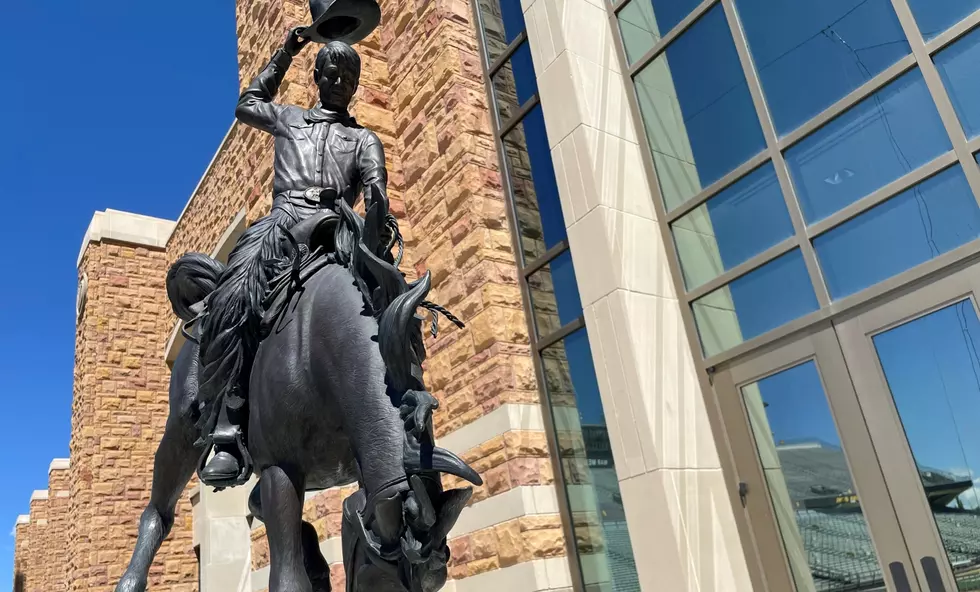 Gear up for gameday: Tulsa
Wyoming opens up its home schedule Saturday when Tulsa pays a visit to War Memorial Stadium. Kickoff is scheduled for 1:30 p.m. MDT./ Cody Tucker photo
LARAMIE -- Title hopes, dashed.
Bowl chances, gone.
Pride, battered.
John Mosley rushed for 201 yards and a touchdown as lowly Tulsa rolled to a 35-0 beatdown of the Cowboys in the 1998 regular-season finale inside Skelly Field. Up to that point, Wyoming's only two losses of the season came between the hedges at No. 12 Georgia (16-9) and at home against 23rd-ranked Air Force.
Tulsa entered the contest with just three wins under its belt, including a victory over Division-!! squad Southwest Missouri State.
"They had the Vegas Bowl dancers there and all the programs laid out in the locker room with the hats and t-shirts," Former UW head coach Dana Dimel recalled in an interview with 7220sports.com in 2019, shaking his head, still in disbelief nearly two decades after that blanking. "We played a horrible game."
MORE UW FOOTBALL NEWS:
* Know Wyoming's foe: Tulsa Golden Hurricane
* Show us your picks: Week One
* Wyoming Football: News and notes ahead of Tulsa
* Jayden Clemons 'kept on boxing' to earn back-up QB role
Wyoming quarterbacks Jay Stoner and Matt Swanson combined to complete just 14-of-39 throws for 140 yards. They were picked off four times. Tulsa, sporting bright red jerseys, racked up six sacks.
UW running backs rolled up a grand total of 73 yards.
That's my everlasting memory anytime these two programs meet on a football field.
Despite finishing 8-3 overall and 6-2 in WAC play, the Cowboys spent the holidays at home. San Diego State instead slid into the Las Vegas Bowl that year. The Aztecs, who finished the season 7-5, including a 7-1 mark in league play, fell to North Carolina, 20-13.
The last time Wyoming and Tulsa met was back in 2019. Craig Bohl called it a "donnybrook." That's the perfect word for it. The Cowboys fell 24-21 in Oklahoma. A handful of players didn't even make it to the final whistle, including right guard Logan Harris, who was taken to a local hospital by ambulance after suffering a concussion.
It was that physical.
Expect more of the same Saturday when the Golden Hurricane blows into the Cowboy State.
Here is all you need to know -- and the links -- for Saturday's tilt in Laramie:
WHO: Wyoming (0-1) at Tulsa (0-0)
WHEN: Saturday, Sept. 3 at 1:30 p.m. MST
WEATHER: High of 83, low of 49, sunny, winds at 10-20 mph
WHERE: War Memorial Stadium, Laramie, Wyo. (29,181 capacity)
TRAVEL: WYDOT
TV: FS1
RADIO: Cowboy Sports Network
TICKETS: Wyoming Ticket office
BOX SCORE: ESPN
ROSTERS: Wyoming / Tulsa
BETMGM ODDS: Tulsa -6.5, O/U 44.5 (Could be subject to change)
HISTORY: 3-3 (Tulsa has won three straight in the series)
HEAD COACHES: Craig Bohl / Philip Montgomery
Just The Facts: Size Doesn't Matter For Wyoming's War Memorial Stadium
Did you know it would take the populations of
Gillette
(32,857),
Laramie
(32,381),
Rock Springs
(23,319),
Sheridan
(17,844) and Wright (1,200) to create a sellout inside Michigan's famed 107,601-seat
Big House
, the largest college football stadium in the nation?
For those of you not familiar with the
Cowboy State
, those are Wyoming's third through sixth most inhabited cities, along with the small mining town in Campbell County.
- Just The Facts: Size Doesn't Matter For Wyoming's War Memorial Stadium