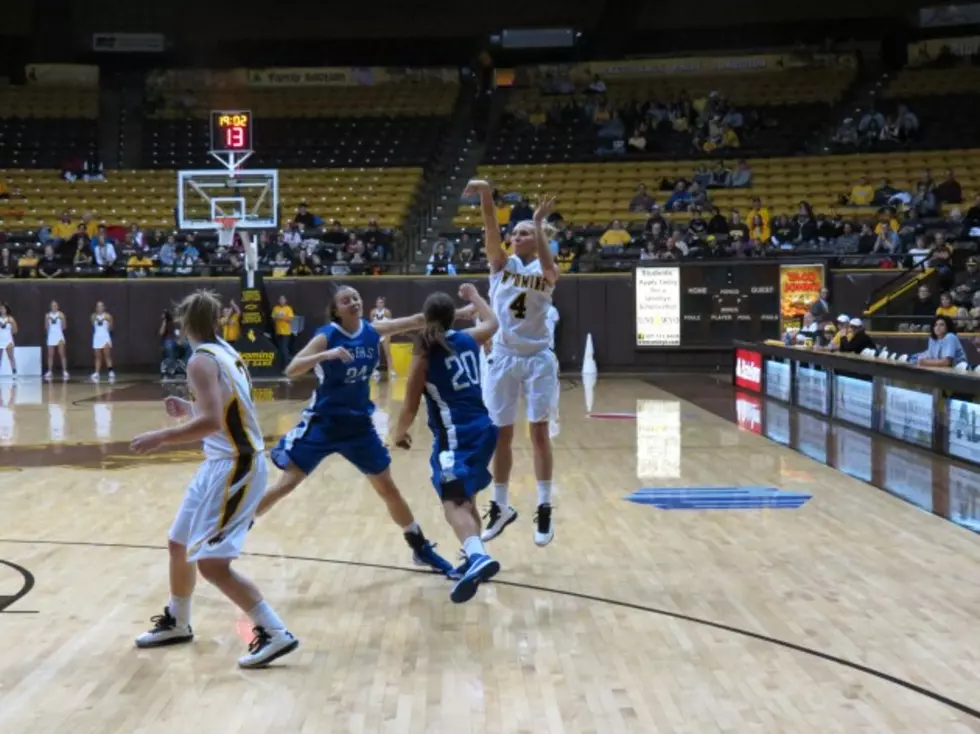 Cowgirls Show Off Depth in Exhibition Game Win
Kayla Woodward (Kari Eakins, Townsquare Media)
Cowgirl basketball fans got their first glimpse of the 2012-13 women's basketball team on Monday night as the Cowgirls beat Dakota Wesleyan University in an exhibition game, 78-53, in the Arena Auditorium.
UW returns all five starters from last years squad while adding two junior college transfers, two true freshman and one redshirt freshman. After the game, head coach Joe Legerski said he could already see the improvement in the depth on the team, especially at the point guard position.
"I thought all three point guards in Allison (Gorrell), Chelan (Landry), and Marquelle (Dent) played very well," commented Legerski. "We were able to rest them and have them play at a high energy."
Legerski also said he liked the fact that the most a starter played was 27 minutes. Although the Cowgirls held the lead from start to finish, Legerski noted that the Tigers were a difficult match up for his team and showed it by hitting 12 3-pointers.
"When you happen to have an opponent that has that ability to shoot from three, it requires your four player to get out on the perimeter and your five player to get out on the perimeter and that puts a lot of pressure on you," said Legerski. "We have a great deal of work to get done. We shoot better than 2 of 13 from three, we shoot better than what we did at the free throw line, but I think we were a little rushed with everything tonight, wanting to make things happen so well."
UW was led by Chaundra Sewell with a double-double of 17 points and 11 boards. Both Ashley Sickles and Kayla Woodward contributed 15 points. As a team the Cowgirls posted 22 assists and 51 rebounds while shooting 46.0 percent (29-of-63). They committed 11 turnovers and shot 62.1 percent (18-of-29) from the free throw line and 15.4 percent (2-of-13) from beyond the arc.
Dakota Wesleyan shot 33.3 percent (18-of-54) from the floor and 36.4 percent (12-of-33) from 3-point range. They committed 19 turnovers and got just 26 rebounds.
Wyoming will play one more exhibition game on Monday, November 5th against Regis at 7 p.m. in Laramie. The first regular season game is set for Friday, November 9th when the Cowgirls will welcome Idaho to the Arena Auditorium for a 7 p.m. game.