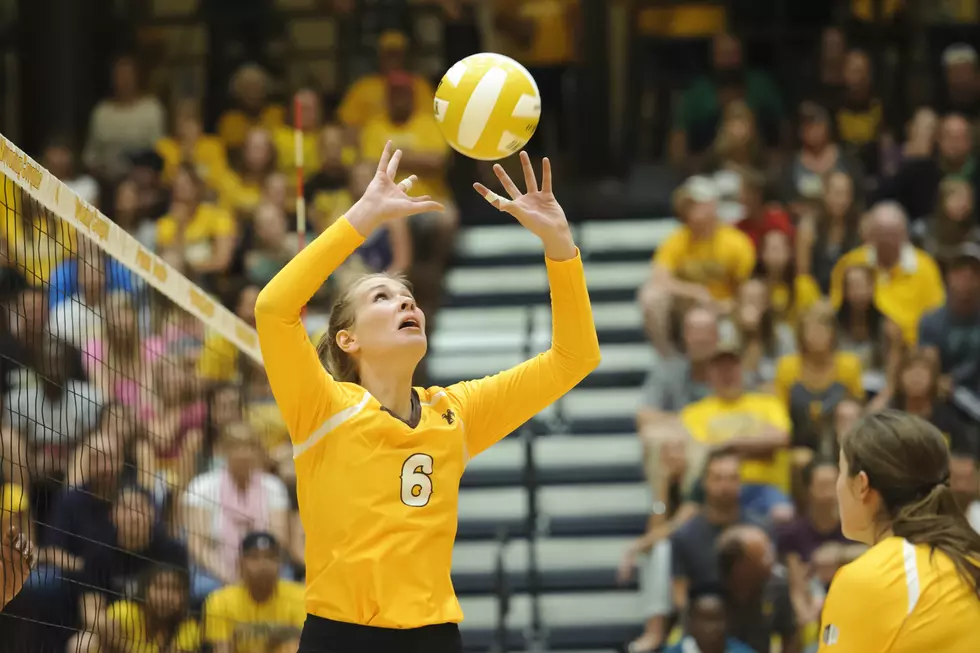 Cowgirl Volleyball is Getting Ready for Post-Season Play
Courtesy: UW Photo Service
For the first time in 23 years the Wyoming Cowgirls are preparing for post-season play. They are part of the National Invitational Volleyball Championship (NIVC).
Wyoming received an automatic bid from the NIVC last Tuesday after a second place finish in the Mountain West.
Cowgirls head coach Chad Callihan feels this is a great opportunity.
"I think especially with the youth of this group. I think for them to have that experience; really I'm hoping it kind of springboards us to something greater in the future."
Even senior Lily Austin is pretty happy her final volleyball season has been extended.
"I'm really excited just to have this new opportunity. We've never done this before, so I'm so excited to get a couple of extra games."
UW is heading to Denton, TX which will serve as one of the eight sites for first and second round action. The Cowgirls will take on the TCU Horned Frogs Thursday at 3 p.m. North Texas, the host school, will take on Oral Roberts in the second first round match. The winners will meet in the next round on Friday at 6 p.m.
Wyoming will enter with a 17-13 overall record, while TCU is 11-16 on the season.
Callihan says, "Everybody left is a good team, so we knew we were going to be playing a quality opponent. I think TCU definitely fits that bill. RPI is 75, one of five, I think, P-5 (Power Five) schools in this thing. A lot of respect for the coach there. I think she does a great job. They're going to be prepared. A lot less travel for them than it is for us, but we're going to going down there and compete. I think we match up with them physically, just probably going to be who can execute and maybe make fewer mistakes."
Junior Reed Copeland says it's about them and not their opposition, as they prepare for Thursday.
"One thing we've been focusing on is going back to basics, and playing our side of the net and not worrying about the opponent, as much. I think it's going to be important because we've never really faced the opponents that we're going to see in this tournament."
UW has faced only two teams in the field this season, Oral Roberts and Boise State.
The 2017 NIVC tournament is comprised of a 32 team field. After first and second round matches, the third round is slated for Dec. 2-4. The semifinals are scheduled for Dec. 4-6. The championship is slated for Dec. 12.
The 2017 season marks the 46th in Cowgirl history. This will be only their fifth post-season appearance. They are 2-4 all-time in the NCAA tournament, with the most recent being a first round loss in 1994.