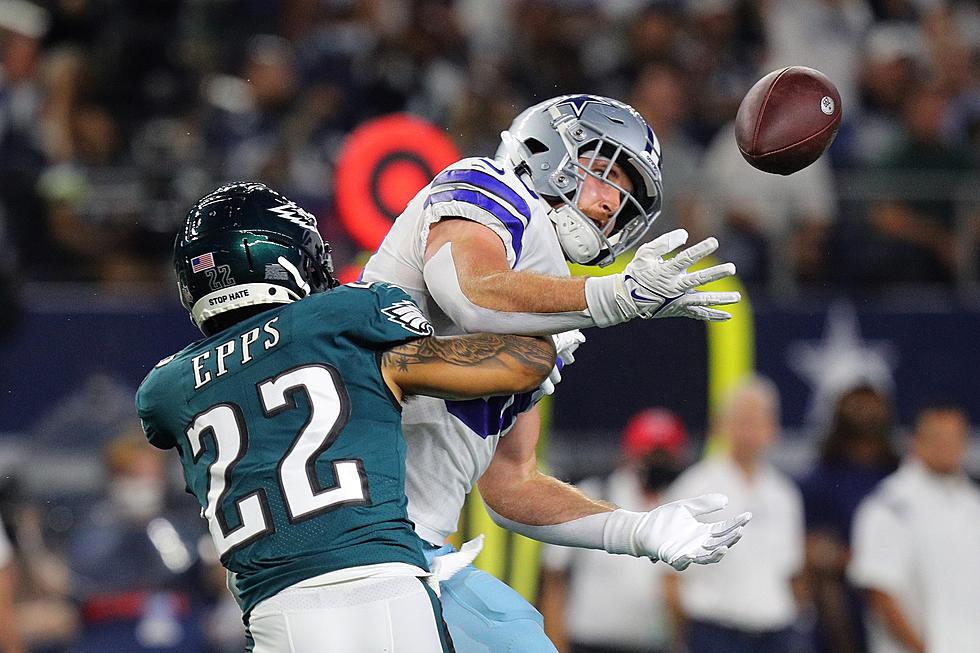 Cowboys in the NFL: Week 5
ARLINGTON, TEXAS - SEPTEMBER 27: Dalton Schultz #86 of the Dallas Cowboys can't make a first half catch in front of Marcus Epps #22 of the Philadelphia Eagles at AT&T Stadium on September 27, 2021 in Arlington, Texas. (Photo by Richard Rodriguez/Getty Images)
LARAMIE -- Former Wyoming safety Marcus Epps took just 20 snaps Sunday during the Eagles 21-18 road win over Carolina.
He made the most of that.
The California native racked up a season-high eight tackles while playing in just 28% of the defense's snaps. This was just the third time in Epps' career than he rolled up that many stops in a single game. The other two times came last fall against Dallas and San Francisco.
Epps now has 19 tackles and a pass breakup this season.
Let's see how the other former Pokes in the pros fared this week:
Jacob Hollister -- Tight end -- Jacksonville Jaguars
Much like his former teammate Marcus Epps, Jacob Hollister didn't get very many opportunities Sunday afternoon. Also, like Epps, he made the most of the one catch he did have, snagging a one-yard touchdown off the right arm of Trevor Lawrence in a 37-19 loss to the Titans. Hollister now has four catches for 21 yards and a touchdown in three games since signing with Jacksonville.
Andrew Wingard -- Safety -- Jacksonville
Let's stay in northeast Florida where former Wyoming safety Andrew Wingard tallied five solo tackles in that loss to the Titans. Wingard and the Jaguars defense allowed Derrick Henry to rush for 130 yards in that 37-19 loss in Jacksonville. Wingard now has 28 tackles, a sack and an interceptions through five games.
Josh Allen -- Quarterback -- Buffalo Bills
Stop me if you've heard this before: Josh Allen hurdled a guy. Yep, he did it again Sunday night in a 38-20 victory inside rainy Arrowhead Stadium in Kansas City. Allen completed just 15-of-26 passes, but rolled up 315 yards and three touchdowns in the Bills' rout of the defending AFC Champion Chiefs, who sent Buffalo home packing in the conference title game a year ago in this very same building. Allen also added a rushing touchdown on the night. He know has 1,370 passing yards to go along with 12 touchdown strikes. He's added two touchdowns on the ground. Allen has only been picked off twice through five games.
Logan Wilson -- Linebacker -- Cincinnati Bengals
Overtime football, anyone? Logan Wilson and the Bengals had Green Bay on the ropes. They just couldn't finish in the extra period -- or at the end of regulation. Rookie placekicker Evan McPherson whiffed on a 49-yard field goal in overtime, pushing the ball just to the left of the pipe as the Bengals fell to the Packers 25-22 Sunday afternoon in Cincinnati. Wilson finished the game with seven tackles. The former Cowboy and Casper native now has 47 tackles, a sack and three interceptions on the season. Wilson is the eighth-leading tackler in the NFL.
Mike Purcell -- Defensive tackle -- Denver Broncos
Former Wyoming defensive tackle, Mike Purcell, was held off the stat sheet in Sunday's 27-19 road loss to the Pittsburgh Steelers. Purcell and the Broncos gave up 147 rushing yards to the Steelers and only sacked Ben Roethlisberger one time all afternoon. Purcell has nine tackles and a stuff to his credit through four games.
Chase Roullier -- Center -- Washington Football Team
Statistically, Chase Roullier is the best run-blocking center in the NFL, according to ESPN. They also call him the fourth-best pass blocker at that position. Sunday inside FedEx Field, Washington rolled up 131 rushing yards on 33 attempts, which equates to four yards per carry. That was the good news. The bad? Washington fell to New Orleans 33-22 and quarterback Taylor Heinicke was sacked twice and tossed the same amount of interceptions.
Carl Granderson -- Defensive end -- New Orleans Saints
Chase Roullier got to see an old friend across the line of scrimmage Sunday outside DC. Carl Granderson finished with just one tackle in the Saints 33-22 win over Washington. That tackle is better known as a sack on the final stat sheet. Just moments after Granderson took down Heinicke, he was nailed with a roughing-the-punter penalty. You can see that in the video above. And great question -- how did he not block that? The former Cowboy now has seven tackles, a sack and a blocked kick to his credit through three games.
Tashaun Gipson -- Safety -- Chicago Bears
After missing the past two games with a hamstring injury, Tashaun Gipson was back in Bears' secondary Sunday in Las Vegas. The 10-year NFL veteran registered three tackles, including a sack in Chicago's 20-9 victory over the Raiders. In just three games, Gipson now has nine tackles, a sack and a fumble recovery.
Tanner Gentry -- Wide receiver -- Buffalo Bills (Currently on the practice squad)
Austin Fort -- Tight end -- Tennessee Titans (Currently on the practice squad)
Eddie Yarbrough -- Defensive end -- San Francisco 49ers (Currently on the practice squad)
Tyler Hall -- Defensive back -- Los Angeles Rams (Currently on the practice squad)
Rico Gafford -- Wide receiver -- Denver Broncos (Currently on the practice squad)
University of Wyoming's Top 50 Football Players
The rules are simple: What was the player's impact while in Laramie? That means NFL stats, draft status or any other accolade earned outside of UW is irrelevant when it comes to this list.
This isn't a one-man job. This task called for a panel of experts. Joining 7220's Cody Tucker are Robert Gagliardi, Jared Newland, Ryan Thorburn, and Kevin McKinney.
We all compiled our own list of 50 and let computer averages do the work. Think BCS -- only we hope this catalog is fairer.
Don't agree with a selection? Feel free to sound off on our Twitter:
@7220sports
- #Top50UWFB
- University of Wyoming's Top 50 Football Players