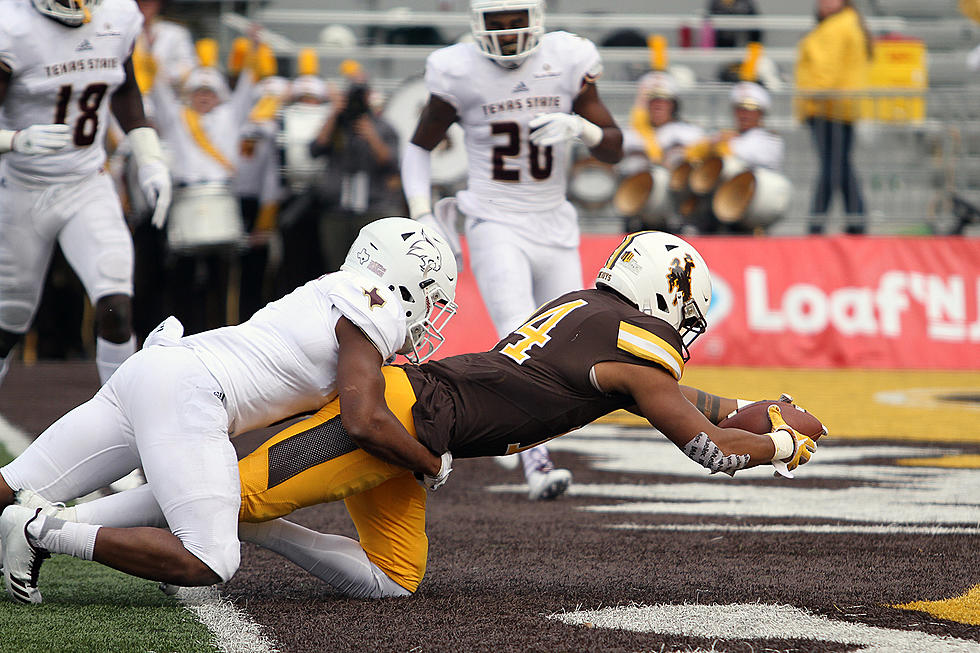 Cowboys Comeback to Beat Aggies, 28-23
Seneca Riggins, Townsquare Media
The Wyoming Cowboys rallied with 12 points in the fourth quarter to beat the Utah State Aggies Saturday in Logan, UT, 28-23.
Wyoming (4-2, 2-0) forced five Utah State turnovers. Those led to 10 points, and the Cowboys also sealed the game with a safety.
In a release from the University of Wyoming, head coach Craig Bohl said a hard fought game wasn't a surprise.
"We've renewed a great rivalry with Utah State. It was a great team win. We felt coming in that it was going to be a really, really close game, and that's what it turned out to be. We're really pleased with a win, and it's going to push us with more momentum. A win on the Mountain side of the conference is huge, so we're really pleased with this."
Josh Allen threw for 208 yards with a touchdown pass and a TD run. Carl Granderson, Rico Gafford and Kevin Prosser came up with interceptions, while Andrew Wingard and Cassh Maluia recovered fumbles.
UW trailed 6-3 after the first quarter. Allen's 1-yard QB sneak on fourth and goal gave the Pokes their first lead in the second quarter. The PAT kick failed, and the Cowboys led only 9-6.
A double reverse receiver pass gave Utah State the lead back with 6:41 left in the first half. The Aggies tacked on a field goal and led 16-9 at halftime.
Prosser's interception and 28-yard return for a touchdown midway through the third quarter tied it at 16-16.
A fake field goal by Utah State early in the fourth put the Aggies ahead 23-16.
The comeback began when Cooper Rothe kicked a 29-yard field goal with 8:51 left. On UW's next possession, Allen found C.J. Johnson behind the defense for a 28-yard touchdown pass for the 26-23 lead. Granderson's safety provided the final points. James Price recovered an onside kick that secured the win.
Wyoming finished with 293 yards of offense. Price had four catches for a career-best 72 yards. Trey Woods added 40 yards rushing. Wingard led the Cowboys' defense with 15 tackles, 10 of which were solo stops. Maluia added 11 tackles, including one for loss, plus a forced fumble with the one fumble recovery. The Pokes had three sacks, seven tackles for loss and three pass break-ups in addition to the five turnovers forced.
Utah State (3-4, 1-2) finished with 363 yards on offense. The Aggies also had 23 first downs compared to UW's 14.
The Cowboys are back in action next Saturday at Boise State. Kick-off is at 8:15 p.m. and can be seen on ESPN2.