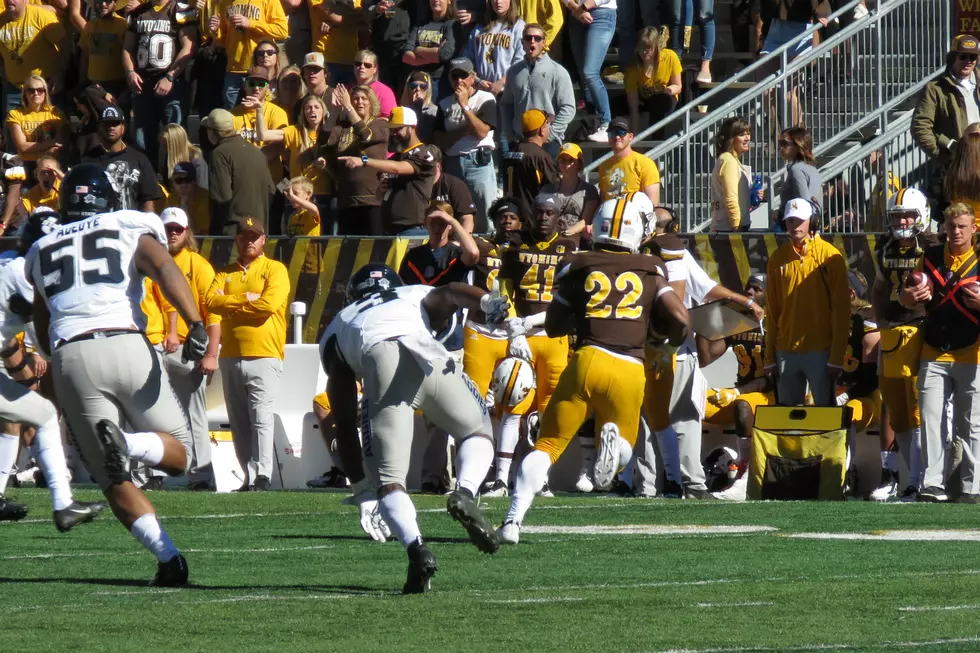 Cowboys Comeback Falls Short [VIDEOS]
Caitlin Anderle, Townsquare Media
Despite being held 28 points and 285 yards below its season average, the Utah State Aggies found a way to beat the Wyoming Cowboys 24-16 Saturday in Laramie.
Utah State (6-1, 3-0) won its sixth straight game and continues to lead the Mountain Division.
Wyoming (2-6, 0-4) lost its fourth consecutive game and is at the bottom of the division standings.
Down 17-3, freshman Sean Chambers came in at quarterback and provided a spark to a stagnant Cowboys' offense that had gained only 73 total yards and had two turnovers early in the third quarter.
Chambers ran for 100 yards and threw for 62 yards and led UW to three scores on four of his drives. Wyoming trimmed the Aggies lead to 24-16 on a Cooper Rothe 21-yard field goal with 5:32 left.
The Cowboys allowed one first down but got the ball back on their own 25-yard line with 2:12 remaining. Starting QB Tyler Vander Waal re-entered the game and failed to complete a pass on four straight attempts. Utah State ran out the clock.
Wyoming coach Craig Bohl spoke to the media after the game and was also asked about the decision to bring Vander Waal back instead of staying with Chambers.
The Aggies took the lead 30 seconds into the game on Darwin Thompson's 56-yard touchdown run. Wyoming's Logan Wilson intercepted a Jordan Love pass late in the first quarter, which led to a Rothe 27-yard field goal. Utah State added a Dominik Eberle 45-yard field goal in the second. It was 10-3 at the half.
Vander Waal threw an interception on the first play from scrimmage in the third. Jontrell Rocquemore returned it 20-yards to the Cowboys' three. On the next play, Thompson ran it in from 3-yards out for his second score.
Chambers entered and led the Pokes to a Rothe 47-yard field goal, which trimmed it to 17-6. Utah State answered right back when Savon Scarver returned the ensuing kickoff 99-yards for a touchdown and a 24-6 lead. Just 94 seconds later, Wyoming's Nico Evans raced 53-yards for a touchdown. That made it 24-13.
Wyoming out-gained Utah State 331-to-194 in total offense. They also kept the Aggies offense off the field with over 37 minutes in time-of-possession. UW was 7-for-19 on third down conversions, as well.
Evans ran for 133 yards. With Chambers at the century mark, it was the first time UW has had two 100-yard rushers in the same game since 2013 versus New Mexico (Brett Smith-138 and Shaun Wick-116). Vander Waal was just 7-19 for 38 yards, an interception, and was sacked once.
Defensively, the Cowboys were led by Wilson with 11 tackles, which included one for loss and his interception. Marcus Epps, Sidney Malauulu, and Andrew Wingard added six tackles apiece. UW had seven tackles for loss, a sack (by Garrett Crall), and five pass break-ups.
Utah State QB Jordan Love was held to 12-28 passing for 53 yards. He came in completing 67 percent of his passes. Thompson finished with 109 yards on the ground.
Up next for Wyoming is the annual 'Border War' with rival Colorado State. The game is Friday, Oct. 26 at 8 p.m. in Fort Collins.