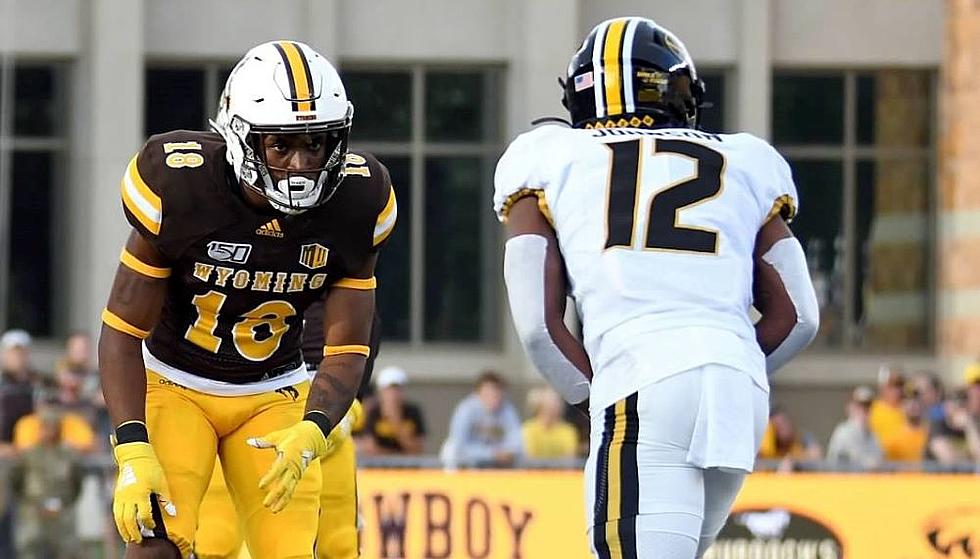 Blankenbaker no fan of NIU, but knows UW's D has work to do
UW defensive back Keyon Blankenbaker lines up against Missouri during the 2019 home opener against Missouri./ DJ Johnson photo
LARAMIE -- Northern Illinois didn't offer Keyon Blankenbaker a scholarship out of high school.
That's OK by him.
"No, that's why I'm not a big fan of NIU," he said with a smile. "They did invite me to the junior day, but they never gave me no scholarship or anything."
The Cowboys' 5-foot-10, 185-pound junior nickelback was sought after by Big Ten program, Wisconsin. MAC schools like Central Michigan and Buffalo liked what they saw, too. NIU (1-1) flirted with him. After all, he was just a 56-mile drive east from Huskie Stadium in Oak Park, a suburb of Chicago.
"They're not good anyway, so I don't want to go there," he joked.
NIU looked pretty darn good Saturday afternoon.
The home team rolled off 27 unanswered point in the second half and turned what was once a 42-16 deficit into a 43-42 lead with just under five minutes left in regulation. Wyoming eventually threw the knockout punch with a Sean Chambers quarterback sneak into the end zone. The Cowboys (2-0) escaped DeKalb with a 50-43 victory.
The last time a UW defense gave up 40-plus points in a game was back in September of 2018. That was a 40-13 road setback against Drew Locks' Missouri Tigers.
MORE UW FOOTBALL NEWS:
* Cowboys in the NFL: Week 1
* PRESS PASS: Hanging with the Huskies
* Pokes' news & notes
* Turning point, unsung hero and what's next for UW football
Wyoming head coach Craig Bohl said Monday that his team could've packed it in early with such a commanding lead, though he hopes that's not the case.
The Huskies' 302 yards of total offense -- 273 of which was on the ground -- in the second half alone would suggest otherwise. NIU's Harrison Waylee is now the third-leading rusher in the country with 323 yards. His 179 is the most Wyoming has given up since New Mexico's Teriyon Gipson ran for 217 yards on just 13 carries back in 2016.
Blankenbaker recorded three tackles in the win.
"I definitely thought we got complacent," he said. "We didn't finish out the game. So that's what I kind of saw out of the defense in the fourth quarter. But like I said, we held on to a win. That's all that matters -- and getting ready for next week."
Tightening up.
Playing assignment-sound football.
Finishing.
Blankenbaker knows what the docket is this week in practice, especially with defending MAC champion Ball State (1-1) and standout quarterback, Drew Plitt, coming to town Saturday.
"We are very prideful," he said. "We've got a huge test this weekend. We're going to bounce back for sure."
UW vs. NIU September 11, 2021