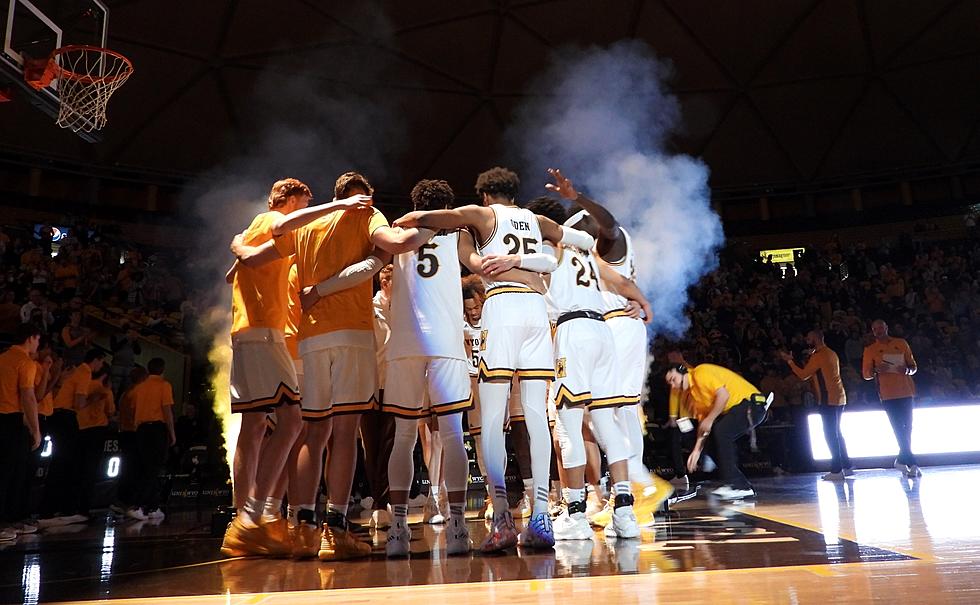 3 Quick Takes: How did Jeff Linder pull off this recruiting coup?
Jeff Linder Wednesday announced the signing of three new players, Max Agbonkpolo, Ethan Anderson and Jake Kyman, who all have two seasons of eligibility remaining./ Lindsay Bugas photo
LARAMIE -- How did he pull this off?
Wyoming may not have warm weather year round, palm trees or sandy beaches, but its basketball program does feature a proven system, a new dedication to winning and, quite simply, offers a chance.
That's all Max Agbonkpolo, Ethan Anderson and Jake Kyman were seeking.
It's those reasons why that coveted trio inked on the dotted line Wednesday, officially joining Jeff Linder's upstart roster which appeared in the NCAA Tournament just a month ago.
Once upon a time, Linder said Laramie wouldn't necessarily be a destination for big-time transfers. The winters can be dark and harsh. The open plains and mountain ranges can seemingly go on forever. But mainly, an established culture of excellence was lost.
Not anymore.
"Winning definitely helps the cause. I mean, ultimately, it's how we're all judged," Linder said on Wednesday, college basketball's traditional signing day. "... When recruiting, we don't tell the kids what they want to hear, we just give them the truth. You know, we can show them numbers, and as we say, the numbers don't lie."
Linder had one of the top offenses in the nation during his four-year stint at Northern Colorado. At Boise State from 2010-16, he ran Leon Rice's offense. The Broncos made a pair of March Madness appearances.
He's coached players like Damian Lillard, Derrick Marks, Chandler Hutchison, Jonah Radebaugh and Andre Spight. You can now add Hunter Maldonado and Graham Ike, among others, to that list.
That's just part of how you add three stellar Pac-12 additions, including the 2019 L.A. Section City Player of the Year (Anderson), the No. 5 recruiting prospect in the state of California (Agbonkpolo) and the Orange County Player of the Year (Kyman).
You know what else doesn't hurt?
These three wanted to play together -- just like the old days.
Before Agbonkpolo signed with Southern Cal and Kyman headed to Westwood to play at UCLA, they helped lead Santa Margarita Catholic to a state title in California's highest classification. Anderson, who was also part of USC's No. 1 rated recruiting class, joined those two on the summer AAU circuit.
"It was kind of the perfect storm," Linder said. "I mean, we knew that they would like the opportunity to play with one another. We felt like we have the things in place and the opportunity to really give them that."
Linder was also quick to dish out an assist to his current staff and roster for aiding in sealing this deal.
With all three of these players on campus last week, he said the 10 guys in his locker room, along with Ken DeWeese, Sundance Wicks, Sean Vandiver, Marc Rodgers, and others, made them feel right at home.
Instead of viewing these three as potential job stealers, Linder said the collective group understands the need for improvement. The bottom line: Will these guys help us win?
Everyone, Linder said, has bought in.
"Really a credit to my guys, our players, who did a tremendous job on the visit and just really opened their arms and made them feel welcome," he said. "That's not the norm and not necessarily always the case at this level."
In 2021-22, Wyoming featured one of the youngest squads in the nation. Now, it features three new juniors, two of which have played in the Elite Eight with the Trojans, and one that helped lead the Bruins to the Final Four.
Yes, with Linder on the sideline, UW can be a final destination. This program is no longer an afterthought on the national landscape. Winning cures a lot of ills.
"To already have that foundation, and for us to be able to add what we add, we have the chance to do some special things," Linder said.
Linder here for the long haul?
In late March, Linder signed his own letter of intent. He accepted a contract that will pay him more than $700,000 annually through April of 2027.
I get it, you're a skeptic. Coaches win, coaches leave. That's the Wyoming way, right?
That could be the case with Linder if the Cowboys reach heights next spring that haven't been seen around these parts since the late 80's.
It happens.
However, Linder reaffirmed Wednesday his desire to be the head coach at Wyoming. His four kids all go to school in Laramie, including a son who is a freshman at UW. He loves to fish. He loves the community.
After all, he's a Front Range guy.
MORE UW BASKETBALL NEWS:
* Wyoming hoops officially adds trio of transfers
* What they are saying about Wyoming's new basketball commits
* Former UCLA guard Jake Kyman signing with Wyoming
* Wyoming basketball inks pair of USC transfers
What caught my attention was this line right here: "You know, my thing is, as long as the administration shows that they're willing to continue to invest in the program and to continue to make the program better ...," he said. "I learned from Mark Few. I mean, that's why he stayed at Gonzaga when he had a lot of opportunities to go to other places. The university continued to make the program better and didn't just say, 'Hey, this is what it is.'"
Linder thanked the president, board of trustees and athletics director Tom Burman for recognizing what has transpired inside the Arena-Auditorium over the past two seasons and investing in a "good product."
As long as the university and administration keep proving hoops on the high plains is important, Linder said he's not looking to go anywhere else.
"You know, my thing is, this is a place that I want to be," he said. "It's not like I'm sitting here looking for the next job. I mean, a lot of jobs have to do with fit. I think for me, I've always thought this place fits me."
Maldonado news
More than once Wednesday Linder added the name Maldonado when talking about next season.
Does he know something we don't?
"At the end of the day, I mean, he's going through the process," Linder said of his senior guard, who is testing the NBA waters this offseason while remaining eligible to return to school. "We'll see what the process brings."
Maldonado averaged 18.5 points, nearly six rebounds and 6.3 assists per game last season while being named to the All-Mountain West First Team. In all but three of the Pokes' 34 games, the Colorado Springs product scored in double figures. He also became the program's all-time assists leader, surpassing Sean Dent.
Oh, by the way, he did all of that above while playing at the point, a position he never played at the college level.
While Maldonado awaits his evaluation from NBA scouts and personnel, he's kept himself busy this offseason -- in Laramie.
"I mean, he's with us," Linder said. "He's here with us every day and I know he's excited about the guys that we're bringing in and excited about the things that we can do with those guys."
With or without Maldonado on the roster, I asked Linder if he has allowed himself any time to day dream about matchups with all this new depth at his disposal?
"Not a lot, to be honest with you," Linder said. "I mean, we're still just trying to push away here, and you have to get them here. Once we get to the summertime, I think the thing is it's just going to allow us to just play a lot faster and play a lot more open and free.
"(It will) take a lot of the pressure off of Maldo and Graham. I mean, just in terms of the amount of possessions and the usage rate that those guys had."
Sure sounds like Linder is planning on Maldonado's return, huh?
LOOK: Pokes' unis through the years