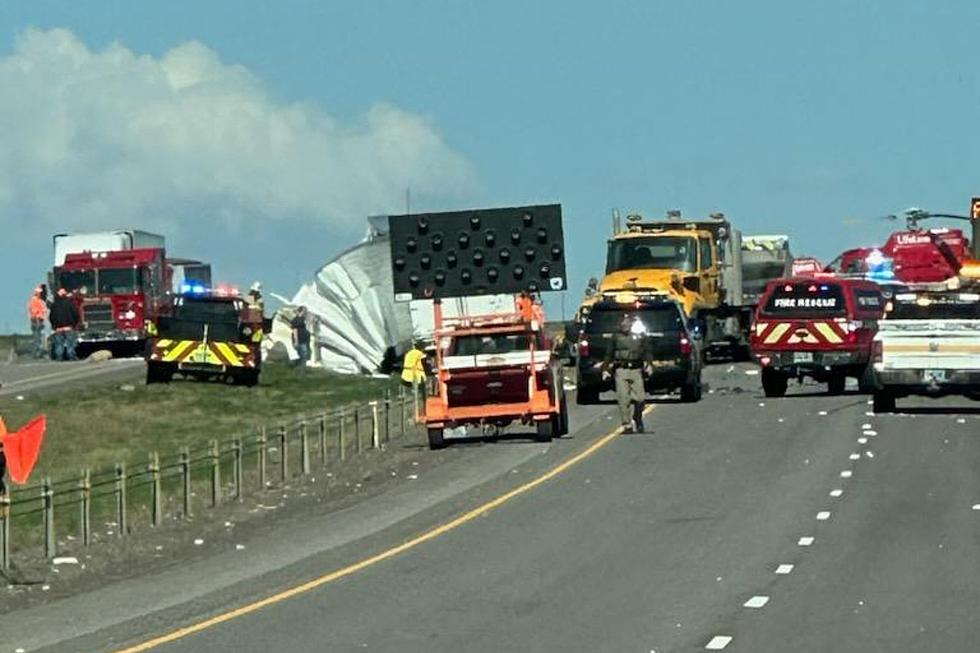 Wyoming Highway Patrol Reminds Drivers to Move Over After Trucker Critically Injured
Jared Newland
The Wyoming Highway Patrol is reminding drivers to move over or slow down for roadside workers following Tuesday morning's crash on Interstate 80 west of Cheyenne.
Sgt. Jeremy Beck says a Wyoming Department of Transportation crew was working on the median side of the westbound lanes at mile marker 345 when a semi driver in the left lane collided with the attenuator -- a crash cushion that's mounted to the rear of a safety truck.
"It sounds like he might have tried to steer to the right at the last minute, but he still ended up colliding with that arm and ended up causing injury to himself as well as the WYDOT driver that was in that dump truck," said Beck.
Beck says the trucker sustained critical injuries and was helicoptered from the scene. Fortunately, the attenuator did its job, and the WYDOT worker only sustained minor injuries.
"It's a tragic reminder that we've got to watch for each other," said Beck.
"We've got to drive safely and be prepared if emergency vehicles or construction crews are up ahead to be mindful to make sure that those folks go home at night as well," he added.
Duard Dilday says seeing the crash reminded him of the close calls he dealt with when he was running the attenuator for the I-80 maintenance crew some six years ago and shared the following video:
READ MORE:
2022's Deadliest Wyoming County by Traffic Deaths
While car crashes can occur anywhere, some roads in Wyoming are more dangerous than others.
According to
Wyoming Highway Patrol
data, there were 117 fatal crashes in the Cowboy State in 2022 resulting in 133 deaths.
Of those fatal crashes, the majority (13.68%) occurred in Laramie County -- two in January, one in February, one in March, two in April, one in June, two in July, three in August, two in September, one in November, and one in December.
Sweetwater County saw the second most fatal crashes last year, 12, while Fremont and Lincoln counties each saw 10.
Albany and Park counties each recorded eight, and Campbell, Converse, and Natrona counties each tallied seven.
The deadliest 2022 crash in Laramie County took place on June 17 when two semis collided on Interstate 80 east of Cheyenne and immediately became engulfed in flames killing both drivers and a passenger.
Laramie County also saw two fatal crashes involving motorcyclists, two fatal crashes involving juveniles, and a fatal crash involving a pedestrian last year.